Shelby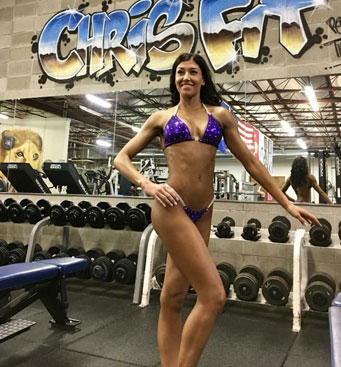 When I started out at Chris Fit I was very happy and felt comfortable going to the gym every morning. I felt welcomed and enjoyed the help trainers and friends were able to give. I had just moved back to Buffalo from Rochester, N.Y where I had the pleasure of assisiting my Choreographer as the Dance Captain to Eddie Money's new musical "Two Tickets To Paradise". Through out my years in College and High School I was involved in dance competitions and high-demanding dance musicals. I loved finding new ways to workout and stay in shape. As time went on I realized I was ready for a new challenge and focus in my life. This is when I found my love for the gym and fitness. Chris had contacted me and asked what I intended to focus on with my fitness. I explained to him that I had always wanted to compete in a Body Building competition.

I was a new member to the gym. Everything was new to me. The technique, the terms and the nutrition plan. I started training with Chris at the end of May for my Competition that took place in October. I didn't know what to expect but I knew I was ready for a new challenege and had a goal in mind.

Chris was very patient in explaining everything to me. I learned how to balance my meals, what to eat and why I was eating that food. I even bought my first food scale. I learned how to properly lift, what muscles groups to focus on and how much cardio should be done through out the week.

One thing that was very helpful was the workouts. Chris sent me my first month of workouts while I was away for work. (SO HELPFUL). He was always there. Whether I had a question about my protein in-take for that day or if I didn't understand certain parts of my workout routine I knew I could count on him to be there.

Getting on stage and performing in my first Body Building Competition is a feeling I will never forget. I felt confident, strong and beautiful. I gained a certain respect for myself and what I had conquered. I learned how we are the only ones in charge of changing the way we look or feel.

Body Building showed the results for me on the outside just as much as it did on the inside. My anxiety and depression went way down and I slept so much better at night.

I now look up to those who are involved with body building competitions. It may not be easy at times and you may be the one dripping sweat all over the gym, but man is it rewarding. All the dedication and hard work certainly has paid off... and still is! I believed in myself and with that I earned two second place medals and two delicious pieces of pizza.

Although my competition is over the amount of tools I still use in my everyday life is amazing. You will look at your meals and workouts way differently in a good way! It is a lifestyle I am happy to have found. My first competition with Chris and Chris Fit will always hold a special place in my heart. I can't wait to do it again!