Steve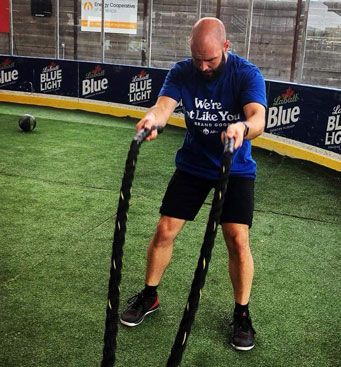 Thoughts From a Left Tackle:
Fitness and exercise have always played a role throughout my life. In high school, fitness was a means to an end; if I wanted to play football, I had to run and lift. The opening scene of The Blind Side described my build with remarkable accuracy. I spent most of my high school years with my weight in the 250 pound range. Although I spent time working out, I didn't pay much attention to nutrition and I never considered myself a gym guy.
Throughout college and my early professional career, I dabbled with fad diets and trendy exercise programs. While I found some success in the short term with these plans, the sustainability would eventually impact my quality of life negatively and I'd stop or revert back to previous habits. The pendulum would swing and I would either focus on working out or trying to diet, but I could never seem to find the right balance between both.
In the Spring of 2015, a group of my family and friends began to follow an infomercial diet and exercise plan. I felt successful when I saw the numbers on the scale steadily dropping, but so was my energy level. Because I still felt like I had weight to lose, I continued with the plan, even after a colleague I hadn't seen in a few years reconnected with me and voiced concerns that I looked ill. By this point, I was weighing in 90 pounds less than the high school lineman, but I still didn't feel healthy.
During the Summer of 2015, I reached out to Chris by chance when my frugality implored me to use my flexible health care account before it expired. I told Chris I wanted to lose more weight and wore the 90 pound weight loss like a badge of honor. Chris recognized the hard work I put in to earning this achievement, but he also knew I needed real, personalized, professional fitness advice to maintain my weight loss in a healthy, sustainable way. Beginning that summer I learned the importance of tracking macros, applying the 80/20 rule, and consistently training while always trying to improve. I stopped looking at the number on the scale as the only marker of progress. I was repping exercises with weights that were previously PRs. I started to have more energy. The biggest change was not looking at exercise as something I had to do, but something that I looked forward to having the opportunity to do.
So why continue training? Weekly training sessions with Chris serve as motivation, with a dose of sarcasm, laughter, and genuine consideration for individual progress. An individualized workout program helps to continually move past previously considered boundaries. Group kettlebell classes serve as the foundation for what makes ChrisFit truly unique- the people. Each person who is a part of the ChrisFit team, including members, trainers and staff, adds a unique perspective. The community that is formed while working toward a more healthy lifestyle serves to support one another, while at the same time reaching and celebrating goals and accomplishments.
This lineman, who was always the last to finish any kind of conditioning exercise, started to set previously unthinkable goals. Ride a bike to raise funds for the American Diabetes Association with a ChrisFit team, done. Join a group of ChrisFit Misfits for the Greek Peak Spartan, why not? Compete in a team fitness challenge against teams from other area gyms and claim the top prize, seriously? No one would have believed I would volunteer to run two miles while carrying a 50 pound bag of sand, but it happened.
Fueled by the determination for overall wellness, the ChrisFit team has also facilitated countless service projects in the Niagara Region. The Heart, Love, and Soul Food Pantry, Roswell Park Cancer Institute, Toys for Tots, and Opportunities Unlimited have all benefited from the members of ChrisFit. Most significantly ChrisFit sponsored the construction of a home with the Niagara Chapter of Habitat for Humanity. I challenge you to find another gym committed to overall wellness and service throughout the community.
Looking back at the last three years, my perspective of fitness has drastically changed. Early on, Chris made the comment "fitness should enhance your life." I truly learned the power of that statement over the course of our workouts. The members and trainers embody this quote, and strive to better themselves and those around them through fitness.